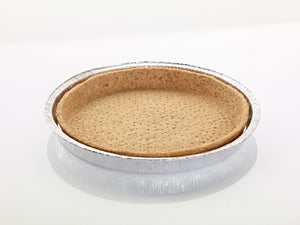 Pastry Direct
Pidy Wholemeal quiche & Pie base 22cm
Regular price
€12,25
€0,00
Unit price
per
Tax included.
Shipping
calculated at checkout.
This
pressed puff pastry quiche & pie base 
is ready to be filled with Pie filling or a decadent Quiche Recipe! One of our only products which is made from a wholemeal pastry base making it perfect for all of the family to enjoy. C
oming protected with an aluminium tray for convenience when cooking.
Perfect for dinner or lunch and serves up to 6 slices per unit. 
Units per packet: 6

Max Packets per Single delivery: 6
Allergenic Information: Contains gluten & traces of Dairy
Why are the amount of pastries per packet so large?
We offer large quantities of pastries per packet because it is better value for you and our pastries have a long shelf life! You can very safely work on a minimum shelf life of 3 months at the time you receive your delivery but they can last up to one year, so you'll have pastries to enjoy for months, Hurray! Many of our Pastry Packets are also very suitable for parties and larger occasions which means the more the merrier! 
How long do the pastries last once opened?
The shelf life varies within the products according to the type of pastry you have ordered. But you can safely work on a minimum shelf life of 3 months at the time you receive your delivery but they can last up to one year. 
How to store the pastries?
Store in a cool and dry place where possible.
Delivery? How long it will take? 
Delivery will take 2-3 Days. Our products are delivered via Courier service around the island of Ireland. We do not deliver on weekends.
Returns?
If you receive your goods and there are some broken pastries worry not we've got you sorted!
Where do they come from?
Pastry Direct is based in Mhuine Bheag county Carlow Ireland but the pastries are imported from Pidy which is a a french family food company with production sites in Belgium, France and the USA. The products you will receive from us are imported from Pidys Belgian production Site. 
What's the shelf-life once they've been filled?
Once you have filled your pastry treat the "Ready to fill" cases as fresh pastry. The pastry can be made up well in advance depending on the nature of the filling. It will last for many hours once treated correctly. Second bake pastries (quiches, crème brûlées) are more likely to hold up for longer.  Spoilage also depends on the filling.
Can I freeze them?
Both empty and filled,these pastry products are very suitable for freezing.
Are they vegetarian
For vegetarians all the pastry cases we sell are suitable.
Are they Gluten free?
Our gluten free range comes in 3 varieties - one neutral pastry cases and two sweet pastry cases. The products are gluten and dairy free and have a handmade rustic look to them with a buttery crumbly texture. 
Are they vegan?
If vegan it varies from product to product which are suitable and which are not. 
I'm lactose intolerant?
If lactose intolerant it varies from product to product which are suitable and which are not. 
How long will the pastry cases hold up after filling?
Of course this will change from pastry type, filling and nature dish. For best results, the mini puff pastry cases can be filled up to 12 hours in advance, the shortcrust tarts and tartlets will be fine for 24 hours, and any re-baked items (quiches for example) can be held for 48 hours.
Why does Pidy pastry have such a long shelf life compared to fresh pastry?
Pidy pastry has such a long shelf life as it is baked differently to normal fresh pastries. Normal fresh pastries come from the oven with a moisture content of about 15-20% meaning mould will grow within a few days of baking. Moist, nourishing places like fresh pastry are easy for yeast spores and moulds that are in the atmosphere to set up and multiply. Appearing as grey and black blotches we know as Rhizopus Stolonifer or Bread mould.
At Pidy the bakers reduce the moisture content to about 5% by passing the pastry through a drying oven. This takes enough moisture from the pastry to stop mould growth and spoilage, therefore giving the pastry a much longer shelf life of many months.  This shelf life of course changes once filled. Keeping in consideration the type of filling and pastry type the shelf life once filled should be close to the shelf life of fresh pastry.
Doesn't the dehydration process make the pastry a bit dry?
Well, yes, but the main point of the pastry cases is to be filled! Once filled with any kid of filling, whether it is adding cream and berries to your 'Mini short crust Cases' to adding quiche filling to your 'Quiche' cases the pastry begins to re-hydrate by taking some of the moisture from the filling. The pastry only takes enough moisture from the filling to restore the normal pastry consistency, so it doesn't have a big effect on the fillings properties. 
For the puff pastry items, like all the Vol au Vents sizes. We recommend to refresh them in an oven if they are being used with cold fillings.  Place in a preheated oven at 150°C for 5 minutes and allow to cool before filling
What can I Make with my "Ready to Fill" pastry order?
Check our Recipes page for more.
---