• Main Course • Recipe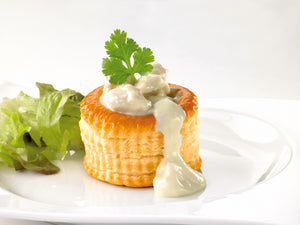 Creamy Chicken Vol au Vants Cateogry/Type:  Main Course Prep Time: 30 minutes Serves: 4 Ingredients: 12 Pidy Vol Au Vants 2 Tbsp Oil 4 Chicken Breasts cut into small cubes 60ml  White Wine 60ml Chicken Broth 1 Tbsp dried Tarragon 1 Onion finly chopped 1 Garlic clove crushed 120ml double Cream  Method: Heat the oil on a large frying pan and cook the chicken pieces until they they have a light golden colour. Set aside. Add the onion and garlic to the pan and saute until translucent. Add the wine chicken broth and tarragon. Bring to the boil and simmer uncovered for 3...
---
• Gluten Free • Main Course • Recipe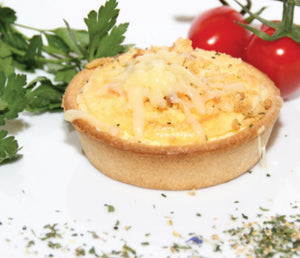 Pidy Three Cheese Tart Category / Type: Savoury/BakedPrep time: 25 minutesServes: 10 pieces Ingredients:  5 Pidy Quiche & Pie base 8.5cm or Gluten Free 8.5cm Neutral 200g Goats Cheese 100g Fresh cream 300g Cream cheese 2 eggs zest of half a lemon 50g Greated Whhite Cheddar Cheese Method 1. Whip Cream Cheese, Cream, Goats Cheese until smooth. 2.  Add Lemon Zest. 3. Whip in the Eggs & place filling into a piping bag and Chill 4. Place some cheddar into the pastry base 5. Pipe in Filling to top of base 6. Bake in a preheated oven for 10 minutes @...
---
• Dessert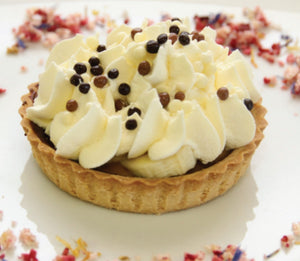 Pidy Banoffi Tart Category / Type: Sweet/Cold FillPrep time: 10 minutesServes: 10 pieces Ingredients: 10 Pidy Sweet Tartlets 9.5cm 1 Can of Nestle Caramel/Home-made Caramel 250g Whipped fresh cream 2 Fresh Bananas Grated Chocolate  Utensils: Whisk, Spatula Piping bag and nozzle Method 1. Fill the sweet tartlets evenly with the caramel. 2. Whip cream and Place in a piping bag with nozzle. 3. Slice up the fresh bananas and place the sliced banana onto caramel. 4. Pipe the cream onto the banana. 5. Grate chocolate on top.
---
• Dessert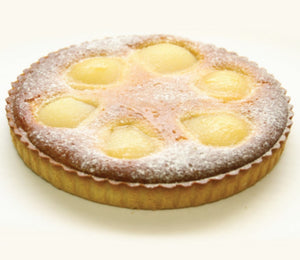 Pidy Pear & Almond Tart Category / Type: SweetPrep time: 20 minutesServes: 1 piece Ingredients: 1 piece Pidy sweet tartlet 22cm 1 can of Pear Halves 400g Frangipan Mixuture Icing sugar Apricot Jam   Method 1. Open the can of pears and drain 2. Put the Frangipan into a piping bag. Pipe 6 Dots of frangipan onto the 22cm Tart, Spaced to sit pear halves on. 3. Place the pear halves on the frangipan dots. 4. Pipe the rest of the Frangipan to fill the spaces around the pear 5. Place in a pre-heated oven at 180°C & bake for...